And, I am also excited to work with you...
But first, let me tell you a little bit about myself! Let's start with a short overview of some memorable events that happened over the past years in my life!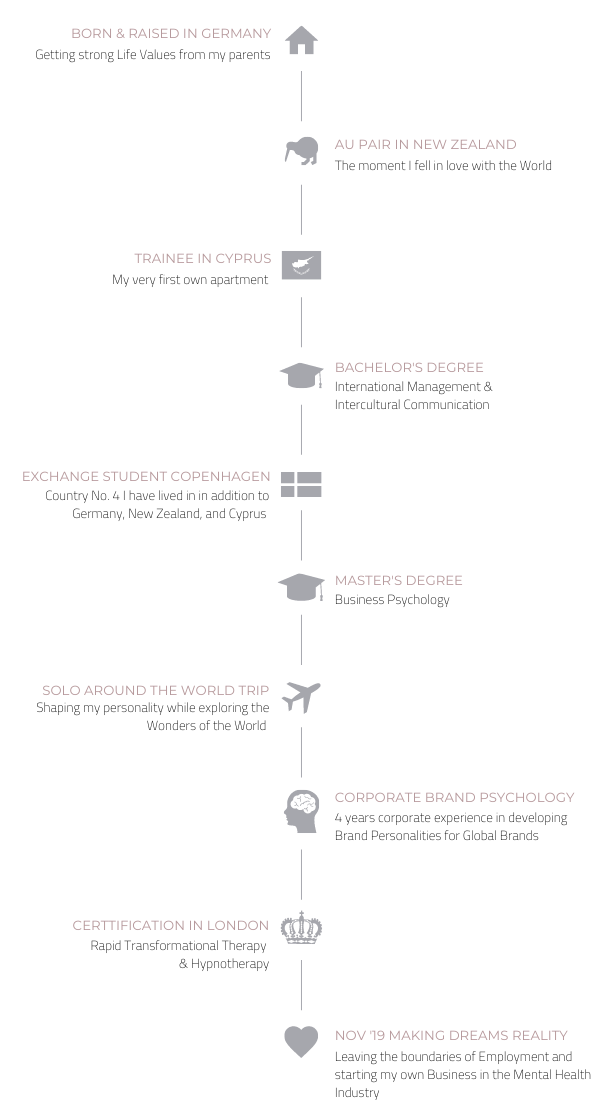 I am proud to be flexible in how I work and who I work with!
My clients are my no.1 focus. So, I provide a unique approach tailored to your personal needs and with the best care for your individual situation.
Hello again, I am Lisa. And, I am here to help you make sense of all the things that don't make sense in your life. I've experienced first-hand on multiple occasions how destructive the power of a haunting past can be. And, I want to help you let go of that painful burden so you can move forward to a fulfilling life.
My entire life I have been fascinated with the Psychology of the Mind and the Power of Personal Development. My life is defined by continuously working on becoming a better version of myself. My love for the field of Psychology has led me to study Business Psychology. For 4 years I have worked in the Brand Psychology field consulting Global Brands and developing Brand Personalities for companies.
In 2019 I received further Professional Training in London and received my Certification for Rapid Transformational Therapy and Hypnotherapy. My passion has always been around supporting others to unlock their true potential and live the best possible life. I am excited to become a part of your journey to attain all of that for yourself.
Another substantial part of my life is my love for the World. I have lived in 4 different countries throughout my life and carry my love for traveling with me at all times. That being said, I will work location and time independent and am happy to find time slots that fit your time zone or even see you in person in your country (once Covid regulations allow for it).
Needless to say…being a Travel Addict and Global Citizen in every fiber of my body, I am always up for all kinds of adventures. Let it be bungee jumping, scuba diving with sharks, or skydiving.